All the patients who walk through the doors of our dental clinic desire one thing – a smile that would light up the world. And our dedicated well-skilled and highly trained cosmetic dentists at Liverpool Smile Studio aim to give them that. As part of our modern cosmetic dentistry service menu, we also offer exciting orthodontic options including clear or invisible Braces Liverpool.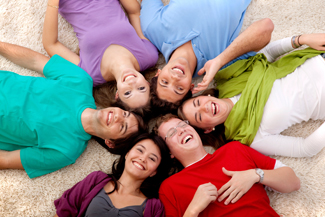 Clear Braces Liverpool, like Invisalign, work in a similar way to that of traditional wires-and-brackets orthodontic devices but differ in the way they are designed and the materials used – key differences that account for the sought after benefits they offer. Both modern and traditional orthodontic devices work to move teeth gradually into a specified position; however, orthodontic aligners go beyond the typical restrictions linked to wire-and-bracket devices.
Top 5 plus points of Invisalign Braces Liverpool
Conveniently removable
The advantage of a patient removing the aligner trays themselves has revolutionised the world of orthodontics. This benefit is most appreciated in two important ways. Firstly, patients find their oral hygiene maintenance easier to carry out – no more twisting and turning to get the floss into hard-to-reach places. Patients are allowed to remove aligner trays to clean their teeth. This in turn leads to improved oral and overall physical health.
Secondly, food restrictions are removed – no more having to make personal sacrifices by not eating one's favourite foods or the worry about the wires and brackets breaking. When it is time for a meal, the patient will simply remove the trays and pop them back in once they are finished.
The time allowed for the aligner trays to be removed is limited which is typically two to four hours a day. In order for this orthodontic system to produce results, the aligner trays need to be worn for the time recommended by our dentists.
Barely detectable
Not everyone wants to announce their orthodontic treatment to the whole wide world so the fact that clear braces are barely detectable is a welcomed one.
Custom-made for efficacy
Invisalign trays are specifically made to form fit each patient to effectively resolve their individual teeth and bite issues.
Comfort
Compared to conventional orthodontic devices, plastic aligner trays have been found to offer more comfort to the patient as there are no metal wires and brackets to contend with.
The number of dental appointments is reduced
Patients with busy schedules will really appreciate the fact that an aligner-designed treatment plan will mean fewer visits to the dentist. The aligner trays incorporate advanced intuitive technology to allow them to automatically reposition teeth – no more manual manipulations of the wires and brackets at the hands of the dental practitioner. Patients will be given a number of aligner trays to use over the course of treatment.
Do you need to learn more about what invisible braces can do for your smile? Let our highly trained cosmetic dentists at Liverpool Smile Studio give you the smile you have always wanted. In addition to exciting new orthodontic devices to correct less-than-perfect smiles, our service menu focused on cosmetic dentistry includes professional in-clinic teeth whitening, veneers and dental implants.