Having a great smile can make such a difference to your life. People warm to you more easily if you treat them to a great big grin when you first meet. And once people have subconsciously been influenced by that genuine warm smile of yours, they are more likely to help you. If, however, you cannot smile a real, crinkly-eyed smile because you are embarrassed by your teeth, you will be inadvertently cutting off the power supply of helpfulness from the world around you.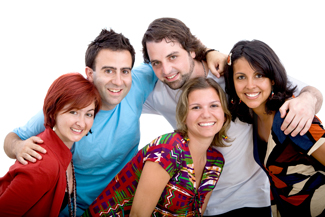 Veneers to the rescue
It all sounds dramatic, but it's true. Our smile is our most important non-verbal tool, so having a good one is vital. You can enhance yours easily, in two or three appointments with us at Liverpool Smile Studio with veneers in Liverpool.
Veneers do a great cover job on all sorts of dental imperfections. If you have knocked a bit of a tooth in an accident, veneers can put it right. If you have cracked a tooth on a surprise bit of grit or an olive stone, veneers can cover over that crack. If you have one or two teeth that are a bit twisted or set back from the others, but don't want braces, veneers can make them look straight and flush with your other teeth. If your teeth are too small, veneers in Liverpool can make them look bigger. If your teeth are stained, veneers can make them whiter. There is no end to the versatility of veneers.
Two or three appointments
It only takes a couple of visits to get your veneers fitted. During the first appointment, we make impressions of your teeth, from which the veneers will be made, and you will agree on a colour for them. If you want to whiten your teeth, you will need to get that done first and then get the veneers matched to your lighter shade.
In the second appointment, we affix the veneers, starting by removing a very thin layer of dental enamel. This gives us a rough surface to bond your veneers to, and also make sure they lie flush with the rest of your teeth.
Come in and find out how veneers in Liverpool can transform your smile.