Here at Liverpool Smile Studio, we offer a wide range of cosmetic treatments. Our aim is to help you to feel great when you see yourself in the mirror. Many cosmetic treatments also offer health benefits along with a boost in self-confidence.
In the modern world, confidence is key, so getting a little boost can't hurt. Here at Liverpool Smile Studio we are dedicated to providing you with the latest cosmetic treatments. We have a department dedicated to teeth straightening in Liverpool. Orthodontist treatment can help you get the smile you've always wanted.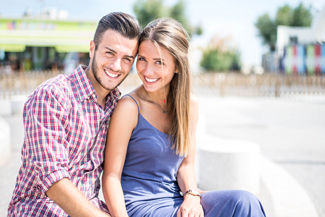 Braces have changed so much in recent years that you can straighten your teeth more quickly, in more comfort and less noticeably with your Liverpool orthodontist.
Teeth straightening options: Fastbraces
One treatment that shares a lot of similarities with traditional braces is Fastbraces. This system is an evolution of traditional braces. They still use metal components like wires and brackets to adjust your teeth into a more desirable position.
The difference with Fastbraces is that the brackets that attach to the surface of the teeth are triangular in shape. This vastly improves efficiency and treatment times.
Fastbraces can be made from tooth-coloured ceramics that make them a lot less noticeable than traditional metal braces and the treatment time can be as little as 20 weeks.
Because of the increased efficiency, Fastbraces require fewer visits to your orthodontist in Liverpool to effectively reposition your teeth.
Teeth straightening options: Invisalign
Invisalign is a revolutionary treatment that requires hardly any metal components at all. The treatment involves a series of custom-moulded tooth trays that are slightly different in shape from one to the next.
These tooth trays are made of transparent plastic so they are barely visible when they are in use. The trays also benefit from being removable at any point by the user.
This removability adds a new layer of practicality not seen with traditional braces. Meal times are no hassle at all and you just look after your teeth the same way you usually would.
Many dentists also pair Invisalign tooth trays with teeth whitening treatments to add that extra 'wow factor' upon treatment completion.