Whether you are new to the city, or are just looking for a new dentist in Liverpool for yourself or your family, our team at Liverpool Smile Studio is the surgery for you.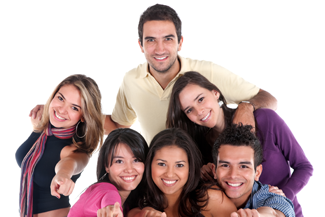 At Liverpool Smile Studio, our team are committed to offering all of our patients the highest quality care, in a friendly and compassionate atmosphere. Our dentist in Liverpool can help you with any treatment you need and offer each of our patients the attention and reassurance they deserve.
Here are our top 5 reasons you and your family should join our surgery today.
Nervous patients
At Liverpool Smile Studio, we know that many people can be afraid to visit a dentist in Liverpool. This can be due to an unpleasant experience as a child or a bad experience with a dental professional recently; whatever the reason, we aim to ensure that all of our patients are happy, comfortable and relaxed in our care.
A member of our dental team, Dr Jeanine McGinty, is a registered dental phobia certified dentist, so if you suffer from a dental phobia, we want to help you overcome it!
Extensive orthodontic treatments
While braces are rarely popular, at Liverpool Smile Studio, we can offer you and your family a wide range of different orthodontic options, depending on your clinical situation.
As we are primarily concerned with cosmetic dentistry, we understand how important someone's appearance is to them, so we proudly offer our patients a range of discreet, cosmetic braces and aligners, such as Invisalign, the Inman Aligner and even the famous Six-Month Smile brace.
Affordable treatments and dental plans
We know that money doesn't grow on trees, so at Liverpool Smile Studio, we are proud to be able to offer you many different methods of paying for your dental treatments.
We can offer you membership based dental plans, for you and your family. Or, if you are more interested in cosmetic work, we can also offer you finance, to help you spread the cost of treatment over months.
Dedicated team
Our team at Liverpool Smile Studio are dedicated to ensuring that you and your family have a great experience with us.
We want to help keep your smile looking its best and can provide you with specialist advice to ensure that your oral health is at is best for many years to come.
Free consultation
Still unsure about joining our dental practice?
We offer free consultations and special offers to new members of our surgery, helping you get the best start to your dental journey with us.
If you decide to become a member of our dental practice, you will receive additional benefits through one of our dental plans, to help keep you and your family healthy, for a lower cost.
These are just some of the reasons to join Liverpool Smile Centre– call a member of our team today for more information!