Nail extensions can instantly transform your hands from something to be quietly ignored into things of beauty that others notice almost instantly. Did you know that you can do the same thing with your teeth, only the results last many years longer than nail extensions?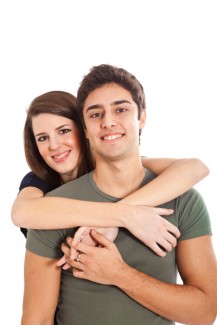 You can give your teeth an instant makeover with porcelain veneers in Liverpool, when you visit our experienced, professional dentists at Liverpool Smile Studio.
In Liverpool, veneers are a great way to give a new lease of life to teeth that have become worn, chipped, broken and discoloured, completely transforming people's smile into something to be proud of once again.
Veneers in Liverpool are not only used to cover cracks, chips and stains. They can also be a quick way to mask minor misalignments of the teeth, thus avoiding costly and lengthy orthodontic treatment.
Veeners: what are they and how do they work?
Veneers are made of very thin porcelain, and are shaped like sheaths to fit over your teeth. They are bonded to the enamel like a nail extension is bonded to the natural nail.
Investing in veneers at Liverpool Smile Studio will require three visits in all. The first is to plan your treatment with the dentists here, deciding on the appropriate size of your new teeth, the angles at which they bite and the gum position around them.
You will receive a written treatment plan with full costs. The second time you come, the dentist will take impressions of your teeth and from these your veneers will be custom-made from porcelain. The next time you come you will be fitted with the veneers.
Our skilled cosmetic dentist, Dr James Bennett, will prepare your teeth by removing a very thin layer of enamel in order to create a rough surface on to which to bond the veneer. This enamel removal is a painless procedure, and is also necessary to ensure that the veneer lies flat with your other teeth.
Off you go with a instant, beautiful new smile that will function as efficiently as natural teeth so that you can eat the foods you enjoy.
Your incredibly strong, durable veneers can last for 10 years, maybe for ever, as long as you keep brushing and flossing and keep up with good oral hygiene.