Veneers are a popular type of cosmetic dentistry available at our modern, and welcoming dental clinic situated within the heart of Liverpool! Veneers in Liverpool are essentially wafer thin caps that adhere to the surface of the patient's tooth using a special dental glue, they are designed to amend the appearance of chipped, broken or irregularly shaped teeth.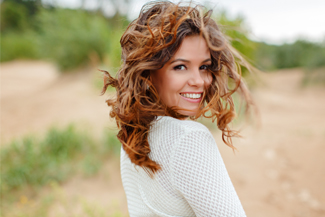 What should I expect from the veneers in Liverpool treatment process?
Many of our patients may be familiar with the term 'veneers' however they may be unsure as to what to expect from the cosmetic treatment process (especially for those who experience anxiety within a dental environment). At our clinic within Liverpool we choose to adopt a patient-centred dental approach, our team custom make our porcelain crowns to ensure our patients achieve the best possible dental results.
What are the benefits of receiving veneers?
Within the modern field of cosmetic dentistry there are a vast array of dental options now available for our patients, veneers are a popular option thanks to their very minimal tooth reduction in addition to their natural aesthetic appearance and their long term durable nature..
How long will my porcelain veneers last?
Many of our patients understandably view their dental work as a substantial financial investment which is why they may ask our dental team how long their veneers are expected to last! It is important to remember that every dental case is completely different, despite these individual differences however veneers, with the adequate cleaning regime, and regular dental check-ups, can last for more than ten years.
What to expect from your consultation..
After you have discussed with our dental specialists and decided that porcelain veneers are the right solution for your smile then we can begin the treatment process! Initially the teeth must be prepared for the cosmetic dental treatment, the first layer of the tooth is removed in order to set a polished surface for the custom made porcelain veneers (this will allow for a smoother treatment process).
How long will it take for my porcelain veneers to be complete?
This is a question we get frequently asked at our dental clinic, as many of our patients may wish to amend the appearance of their smile ready for a special occasion (such as a wedding or a work event, to name just a few common examples). Although our dental healthcare professionals treat every dental case as entirely unique, a typical veneer treatment may take just two visits to complete!
Will the porcelain veneers hurt?
Many of our patients may worry about the treatment process prior to their scheduled visit to our clinic, they may also be concerned regarding any discomfort or pain during the procedure. Despite many of our patients being concerned, they need not fear! Our patients' will be given a local anaesthetic to ensure they will not experience discomfort or pain (sedation is always an option for our more nervous patients).
Get in touch with a dental specialist..
If you are interested in receiving porcelain veneers at our surgery then please get in touch with a member of our specialist team! Located on our website we not only provide our direct contact information, however we also display an 'ask the expert' option.