Teeth that appear worn, chipped or heavily stained can easily ruin the look of a smile. To fix these and other similar issues, patients can opt to be treated with veneers Liverpool, also known as dental caps. Veneers Liverpool treatment plans involve an experienced cosmetic dentist placing thin custom-made shells or caps of porcelain over the affected teeth, effectively concealing tooth surface imperfections.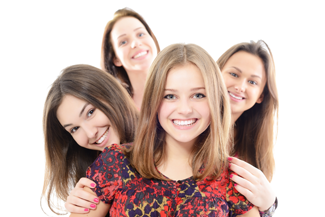 At our Liverpool Smile Studio, we have a professional in-house cosmetic dentist to offer patients durable, top-quality porcelain veneers Liverpool for a beautiful smile.
To receive these wafer-thin dental caps, patients will need the receiving tooth or teeth to be prepared, which, in most cases, involves the enamel to be filed down minimally. Thereafter, our cosmetic dentist will carefully bond the dental cap to the tooth using a specially formulated adhesive.
A good oral hygiene practice at home and routine appointments with our dentist to check on oral health ensure that patients enjoy their smiles for the long term. Here are a few more advantages of porcelain dental caps that make this treatment plan such an attractive option.
Plus points of porcelain dental caps
Dental caps are versatile
One of the main reasons for its huge popularity is that dental caps can be used to improve the appearance of teeth in a myriad of situations. They are suitable for discoloured teeth that cannot be brightened, teeth that have slight gaps in between them, teeth that are irregularly shaped or chipped and patients who do not want to wear braces.
Dental caps protect the health and structure of teeth
As an external covering placed over the teeth, dental caps provide an additional layer of protection, which is particularly beneficial if the tooth is chipped or cracked. Chips or cracks in teeth make them vulnerable to the invasion of harmful microorganisms; therefore, placing a dental covering over these openings minimises this undesirable situation from happening,
Dental caps are tailor-made to suit individual patients
Dental caps offer high aesthetic value because they are tailor-made to suit each patient, matching the colour, shape and size of the rest of the natural teeth in the dental arch.
Dental caps are tough
They may be wafer-thin in width but the material dental caps are made of is extremely durable and non-porous, which makes them highly resistant to staining and tooth decay.
Dental caps are easy to care for
Caring for dental caps is the very same as one would for natural teeth: brushing twice a day and flossing frequently. Patients can further protect their investment in dental caps through regular checkups at our practice to ensure that all is well with their dental health.
If your smile looks a little worn and could do with a makeover, why not schedule a consultation with our cosmetic dentist? At Liverpool Smile Studio, we offer numerous high-quality cosmetic dental treatments, including invisible braces and facial aesthetic treatments like lip fillers, to help you look your best. Give our friendly front desk team a call to find out more.