In recent years, more and more adults are visiting the dentist for teeth straightening. Dental health knows no age limit and it is very common to seek teeth straightening treatment later in life. However, the biggest issues for adult patients in need of teeth straightening is treatment time and appearance. Not all people feel comfortable wearing metal braces, since they can have a serious impact on their appearance and self-esteem.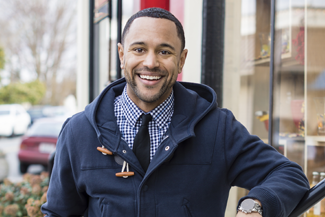 Adult braces are becoming more and more common in modern dentistry. Advances in materials and technique make braces accessible and aesthetically pleasing for anyone, including adults who are self-conscious about their smile. At Liverpool Smile Studio, adult braces in Liverpool are barely noticeable. Whether you opt for Six Month Smiles braces or Invisalign, our experienced dentists will ease you through every stage of the treatment.
Here are some basic things to know about our discreet teeth straightening treatments:
Six Month Smiles
Six Month Smiles treatment works just like traditional braces, but focuses only on the front teeth without altering the bite. The system is very discreet and ideal for adults who wish to change the appearance of their front teeth, since it consists of clear or tooth-coloured brackets and thin titanium wires. The low forces and short treatment time (6 months on average) result in fewer visits to our practice, saving you time and discomfort. Six Month Smiles usually costs less than traditional braces and is ideal for patients who want to straighten their teeth for a special occasion.
Invisalign aligners
Invisalign is a virtually invisible way to achieve a beautiful smile without sacrificing your daily routine. The treatment consists of a series of clear, removable, custom-made aligners that help move your teeth to the final desired position. Each aligner should be worn for one week (or up to 10 days) before its replacement with the next in the series. Overall treatment time will be determined by your dentist based on the severity of your dental condition.
Schedule a consultation
If you are an adult interested in braces in Liverpool and you have questions about how they can improve your smile without compromising your lifestyle, please contact us today.