An orthodontist can help people of all ages – not just kids. Liverpool Smile Studio offers a wide range of options for straightening adults' teeth, which are much more subtle than you might imagine.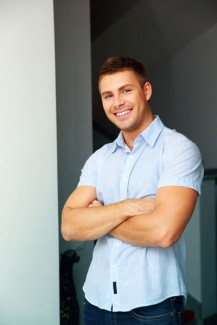 We have a cosmetic orthodontist, Dr Jeanine McGinty, at our Liverpool dental clinic. She can use either braces or aligners to improve the position of your teeth, at the same time brining benefits for your oral and general health.
Each appliance is best suited to a specific set of clinical circumstances, and your Liverpool orthodontist will perform a thorough examination and diagnosis so that she can find the best option to suit your clinical needs.
Whatever option your orthodontist recommends, it will have less impact on your daily life (both professional and personal) than you might imagine. In most cases these appliances have considerably shorter treatment times than standard metal braces, which means that your new smile could be much closer than you think.
Teeth straightening options from your Liverpool orthodontist
Your Liverpool orthodontist may recommend a fixed brace system, or a clear, removable appliance. The braces are usually tooth-coloured, meaning they will pass unnoticed by most people.
Invisalign
Treatment with Invisalign involves the use of a series of clear, removable aligners that gradually move your teeth into a better position. You change your aligner every two weeks as your teeth begin to move.
The number of aligners varies from patient to patient. Your Liverpool orthodontist will tell you how many you should need at the start of treatment. Benefits of Invisalign include making dental hygiene simple to maintain during treatment – you just take them out to clean and to brush your teeth.
Six Month Smiles
Six Month Smiles may be "cosmetic" braces, but they will still improve your dental and general health by making it easier to clean your teeth efficiently, reducing the areas dental plaque can build up, thus reducing your chances of gum disease and tooth decay.
These braces are made to blend in with your teeth, comprising tooth-coloured wires and clear brackets. With any fixed brace system, you should visit your dental hygienist to learn how to clean around it.