Dental veneers have been used in cosmetic dentistry for many years and they are one of the simplest and most affordable ways to transform your smile. These fine, customised porcelain shells are attached to the front of the teeth and cover minor imperfections such as cracks and chips. They can also be used to change the colour of the teeth or improve the shape of the dentition.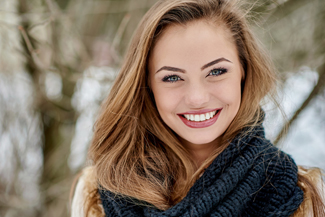 At Liverpool Smile Studio, we offer high-quality dental veneers in Liverpool to patients who wish to change minor flaws in their smile. Dental veneers are not complicated to install and will need up to 3 dental appointments to be completed. Moreover, they do not require much preparation.
Step 1 – evaluating your teeth
Dental veneers are a great aesthetic treatment, but unfortunately, they are not for everyone. Firstly, your dentist will examine your teeth carefully and determine whether you are a good candidate for this procedure. Patients with serious alignment issues or many missing or broken teeth are not eligible for dental veneers in Liverpool. Instead, they will have to undergo a more extensive smile makeover that includes dental implants and other cosmetic or restorative treatments.
Step 2 – preparing your teeth for veneers
If your dentist says you can have veneers in Liverpool, then they will book an appointment so that they can prepare your teeth and take impressions for the creation of your veneers. During this appointment, your dentist will remove a very thin layer from your teeth so that your veneers can adhere securely to the enamel. Once this procedure is completed, we will take impressions of your teeth and send them to the laboratory. At this stage, we will provide temporary veneers so that the surfaces of your teeth are protected while waiting for your final veneers.
Step 3 – installing your veneers
Once your veneers are ready, we will glue them to your teeth and cure the glue with a special laser. This will help keep them in place and keep them strong and sturdy. Your dentist will carefully assess the size and shape of your new veneers to ensure that they are a great fit and will also colour-match them to the rest of your teeth.